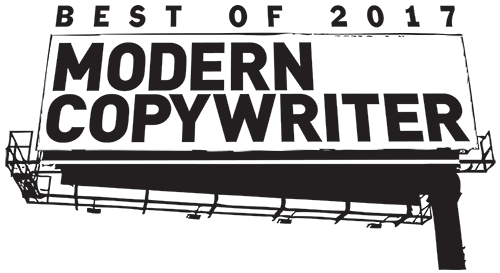 Let's kick off Modern Copywriter's Best of 2017 with the most basic of the basic: portfolio site URLs. For most of us, the best of all wURLds (your welcome) is YourName.com, but getting that isn't always possible. Which means that many creatives end up having to write their URLs. Here are some of our favorites on MC in 2017:
Saying it like it is:
Ricky Lambert: rickylambertdotcomwastaken.com
Kevin MacPhee: kevinmacpheedotcomwastaken.com
Keeping it simple:
Matt Benjamin: getmattbenjamin.com
Mike Beamer: heymikebeamer.com
Randy Warner: randywritesstuff.com
Shelley Barker: shelleybarkerwrites.com
Mark Walter: markwrotethisurl.com
Flora Kim: astoldbyflora.com
Bo Han: bookofbo.com
Having fun:
Brian Bockelman popped off: poppinbockles.com
Cosmo Iannopollo got deep: iveoftenthought.com
David Roth got serious: seriousboyfriend.com
Shirley Chan got creative with dots: sh.irleygirl.com
Lisa Taylor kept it real: writinginyogapants.com
Miami Ad School Grads Caitlin Hickey and Joel Johnson kept it extra real: prettypleasehire.us
Big thanks to our MC Best of 2017 Sponsor, Mighty Recruiting. (Not affiliated in any way with featured creatives or their sites.) Big ups!