Google Analytics | 11.01.2009 – 06.01.2016
According to Google Analytics, MC has been visited 690,466 times by 252,121 unique visitors on six continents, and is most popular (top 10) in the United States, Canada, United Kingdom, Brazil, India, Germany, Singapore, Australia, Spain, and France. Average visit is 3 minutes 59 seconds. How cool is that?!?
Email from nice people.
X-Mas in August. That's how I'd describe the feeling of being featured on your site this week, Jason. Being in the company of writers looking to inspire, share and see great work makes your site an island in a sea of smarm and snark. I sense we share some wiring. It's guys like you that make this business as much fun today as it was when I starting 30,000 years ago. Bravo, Jason. You're done all of us a great service.
Cameron Day
Copywriter/Creative Director
Hey Jason, great site. It's a really good resource for talent. And inspiration. Better and freer than most headhunters. Keep it up.
Greg Hahn
Executive Creative Director, BBDO
Call me shocked, surprised, humbled, amazed, running out of adjectives and verbs. You just made my day/week/year. I stumbled onto your site; it's great. Thank you is what I should say. So thank you.
Janet Champ
Copywriter/Creative Director
I think a few people saw your posting of my site today : ) Thanks again!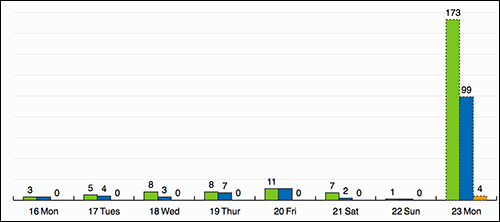 Steve Grimes
Creative Director, The Richards Group
Great site Jason. I love how it features writers like Janet Champ (who made a lot of us want to get into this business) as well as the talented up and comers who will one day push us all out.
Brian Tierney
Copywriter/Creative Director
A great source of burning jealousy-slash-inspiration on a regular basis.
Tim Cawley
Group Creative Director/VP, Hill Holiday
Brilliant idea. Love the site. Great to have a resource for talented writers, and fodder for ideas.
Mike Fetrow
VP/Creative Director, space150
We should all thank Jason for creating an ad blog free of gossip, innuendo and personal attacks. It's inspiring to see how much talent there is out there.
Matt Macdonald
Copywriter/CD, JWT NY
Thank you so much for posting my work to your site. And thank you especially, for the kind words. There is so much great work collected, I am truly honored to be there.
Mike Lear
VP/ACD, The Martin Agency
Thanks again for posting my work on your site. It's a great service and nice way to check out work from all over the country/world.
David Register
Copywriter/EVP/GCD, Arnold Worldwide
It's truly rare for one creative to give another props—unless, of course, they've been shitfaced on a tropical island for three days under the pretense of judging an award show. The site is a much-needed exercise in kindness and humility that everyone should take a gander through, starting, naturally, with my work.
Greg Collins
Copywriter/CD
You are better than a headhunter. I am in the process of hiring an awesome writer, thanks to MC. When people ask me where I come up with all these great portfolios, I like to smile and look mysterious and hint at y'know … connections. I just hope nobody checks my bookmark bar. So thank you for that.
Shanteka Sigers
Copywriter/GCD/SVP, SandersWingo
Granted, I started as a writer a hundred years ago before the internets, but even the internets haven't proven (to me) to be the best source for new up'n'coming writers. Snark and cat videos and Ukrainian base jumpers, yes; but inspired, motivated and interesting writers, not so much. I stumbled onto your site from a random email sent by Chicago Portfolio School and just wanted to take a sec to say hello. And thank you. I'll be scouring your site regularly now.
Andy Askren
Partner/Executive Creative Director, Grady Britton
Thanks again for hosting VCU Brandcenter Week! The students LOVED seeing their work featured and your write-ups about them/their work have been so fun to read. Thanks for doing this on top of your "day job."
Ashley Sommardahl
Director of Student Affairs and Industry Outreach, VCU Brandcenter
You were kind enough to post my portfolio to Modern Copywriter back in the winter of 2015 (the guy with the scrolling beard portfolio). I remember being super stoked about it, and the posting actually led to a legit full-time job offer. All thanks to you and the site for helping that happen.
Colby Spear
Copywriter, Ogilvy & Mather, NYC
You posted my work a few months back when I was living in Austin. It caught the eye of a recruiter at AKQA and well, now I'm here in SF working on Xbox. Just wanted to say thanks. Wouldn't have happened without your site. Take care man.
Ryan Carroll
Senior Copywriter, AKQA
Just wanted to say thanks again for the shout-out on your blog. FYI, my google analytics page exploded with new visitors the day you posted my site. Based on where the traffic was coming from, you've got a lot of smart people in a lot of places around the world hanging on your word.
Aaron Spratt
Senior Copywriter, Pulsar
Dude. Since you posted my site on MC, the job opportunities in Chicago have exploded. In fact, I just turned down a full-time position at an agency I would have killed to work at a month ago. Just too many options to choose from now, so I've decided to go the freelance route. That blog of yours seems to be pretty damn influential. Just thought you'd want to hear an MC success story.
Chris Yocum
Copywriter
Good to hear from you. A few weeks ago the incredible Peter Judd told me about your site and I've been meaning to drop you a line. I love it. I love your eye and generosity and open spirit. Oh, and all the inspirational work. Somehow you will be paid back — at least in positive mojo. So nice job and thanks for including me.
Sam Pond
Copywriter/CD/Director
Nice work with your Modern Copywriter blog. Great resource. How do you find all these people? Many of them I know from here and there but it's cool to discover new talent. Especially when we are hiring.
Jim Haven
Principal/Creative Director, Creature
What a great idea to showcase all these incredible talented freelance copywriters. Many of whom will compete against me for gigs, stealing food off my table, depleting my savings account and forcing my daughters to go to vocational school. Thanks Jason.
Rich Siegel
Copywriter/Creative Director
I like your site. It's fun and most important, it seems to be a kinder place, instead of one of those hate-filled sites I see too much of.
Ashley Davis Marshall
Sr Copywriter, Saatchi NY
I really enjoy your site. Such a needed change from the hate filled ad sites we've unfortunately become accustomed to. Thanks for showcasing such awesome work, if it weren't for the inspiration we get from others, advertising would just be another dead-end job.
Laurence Gega
Senior Copywriter, Berlin Cameron United NYC
Just wanted to share with you the Modern Copywriter effect. The day you shared my portfolio, my site received 142 visitors for a total of 871 page views. That's 2x more page views than I've had in the past seven months combined. Also, incidentally, 55 facebook likes and counting. Thank you again for everything.
Laurence Wang
Copywriter, SapientNitro Boston
Just wanted to drop you a quick note and thank you for featuring me on moderncopywriter. Really great resource to see that "damn I wish I did that" work. Truly humbling to be in such great company.
Matthew Zaifert
Copywriter, BBDO NY
Thanks so much for posting my book. I've already gotten a lot of emails of support and feedback from other writers. Thanks for making me an official part of the community.
Emily Akins
Copywriter, EnergyBBDO Chicago
My name is Gabriel Sehringer and I'm a soon-to-be-graduate of UMass Amherst. I wanted to reach out to share my site & to thank you for being such a great resource for me. My school doesn't have a copywriting (or even advertising) program so I've had to put together a portfolio on my own & learn by looking through hundreds of other people's books. I was first pointed in MC's direction at Mike Lear's suggestion a few years ago, and since then, your site has been one of the best resources for finding encouraging writers & CDs, as well as for setting a high bar for my own creative work. Thank you very much for all you do.
Gabriel Sehringer
Graduating Copywriter, UMass Amherst
My name is Jeff B. Tune and I am a second year CW at VCU Brandcenter. I've been a huge fan of your site ever since 2014, when I initially discovered it.
I'm from Seattle, and I used to be a professional rapper. My wife wanted me to start making money (it doesn't pay well, if you're not famous), and I started looking into advertising. I wanted a job with a creative outlet.
I quickly found out – I need a book! But I didn't know how to make one! I found your site and taught myself enough craft to piece together spec work good enough to get me admitted to Brandcenter.
As we round the corner on releasing the Class of 2017 books, it made me sentimental. In a week or so, I get my shot at having my name up on your site. And that is pretty freaking cool and pretty far from where I was when I was stalking books on here to teach myself how to write headlines.
I should have made this short, after all, it's all about quick communication. Without all the long copy, what I'm really saying is…
THANK YOU.
Jeff B. Tune
Graduating Copywriter, VCU Brandcenter
MC literally changed my life. Not kidding.
Anyway, my name is Jon. 2 years and some change ago I was nearing graduation from college and was torn between staying in Pittsburgh or trying to make it in NYC. All I knew for sure was that I wanted to be a great copywriter. I Googled "Pittsburgh copywriter goes to New York" and found Mike Latshaw's page on Modern Copywriter.
Mike is a guy from Pittsburgh who started as a junior there and successfully made the jump to NYC by doing great work. I identified strongly with that, but it was also clear how much he loved advertising, just like I did. I was inspired not only by Mike, but the entire MC site. After that, I wanted to be in the ad capital of the world more than ever, so I sent Mike an email out of the blue asking what to do.
He was nice enough to email me back and strongly recommend I go to Miami Ad School in Brooklyn. I made a huge decision to go to ad school in New York on Mike's advice and the rest is history.
After 2 years of working my tail off, here I am on the other side. I'm not kidding when I say I've been thinking about sending this email for about 27 months now.
I just graduated from Miami Ad School-New York and finished up an internship at Grey and am currently looking for my start somewhere as a junior copywriter. If you could post my portfolio, that would be amazing, but either way, thank you for making Modern Copywriter.
Jonathan Gruber
Graduating Copywriter, Miami Ad School New York
You are the friggin' man. I can't thank you enough for the shout out and exposure on MC today. It's only been 21 hours and the feedback and hits to my site are already phenomenal. By the way, I absolutely love what you're doing. It's such a great resource and source of inspiration.
Dylan Meagher
Graduating Copywriter, VCU Brandcenter
Thanks for creating Modern Copywriter. You've made my life a little easier. Have a wonderful weekend!
Yvette Ablakat
Creative Resources Manager, RPA Advertising